How To Measure Your Wall For A Wall Mural
Once you have decided on the wall you want to enhance with a mural, you will need to decide what portion of the wall you want covered. Keep in mind that a full wall mural is going to offer you the greatest impact and is ultimately the best value for your money. This is one instance where size truly does matter. A partial wall mural will add color, texture, interest and, if you wish, provide a theme to your space. However a full wall mural will provide extraordinary drama and help you transform a room from ho-hum to incredibly chic.
To help you envision how a mural might appear on your wall, see our room settings under each gallery image.
Once you have decided on the perfect size, measure the wall several times to ensure accuracy.
There is an old saying that we would like you to remember, 'measure twice and cut once!'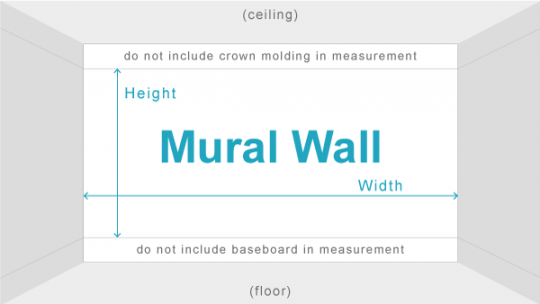 What sizes are available?
Our images: Minimum 4 feet x 8 feet, with no maximum
Your images (custom murals): Minimum size of 3 feet x 5 feet, with no maximum
Measuring tips (full wall)
Width—measure the horizontal distance from corner to corner.
Height—we recommend that you measure the vertical height at each corner as walls are never perfectly square. If different, select the greater of the two height measurements.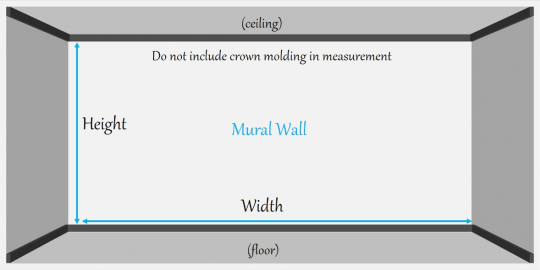 Measuring tips (partial wall)
PARTIAL WALL COVERINGS
Make registration marks along the area that you want to cover.
Width – Measure the horizontal distance between registration marks.
Height – Measure the vertical height at each corner of the registration mark. You may want to cover a variety of heights. In case of difference in height, always select the greater of the two height measurements.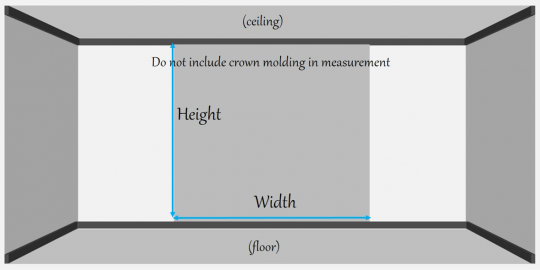 Submit your exact measurements of your desired mural space.
We create all custom size murals based on the specific dimensions you provide.
For single panel murals, we print the exact dimensions you provide plus approximately 1/16" bleed.
For larger, multi-panel murals, we add an extra inch of bleed to the height and width of the full mural to accommodate for slightly uneven wall dimensions.
Extra material can be easily trimmed away once the mural application is complete; do not trim before installation.
Do You Have An Unusual Wall?
Should you have a sloping or non-uniform shaped wall, please take a picture of the wall and e-mail the picture, the maximum width and height, along with as much information as possible, to us: support@bridemoon.com
Feel free to call us about unusual walls/rooms or creative ways to work with a stairwell, closet, or ceiling. Speak to one of our design consultants by calling +973-17441241
We may then be able to suggest printing in slightly different widths to our standard measurement in order to offer best value for money.
If in doubt follow the most simple rule of all 'more is better'.
Most designs are pretty flexible and trimming the excess normally does not harm the overall look.
Oh, and use a tape measure! (sounds a little obvious we know). Do not use a ruler or a set square where you have to add up measurements to give you a final size. This is a really common way mistakes are made.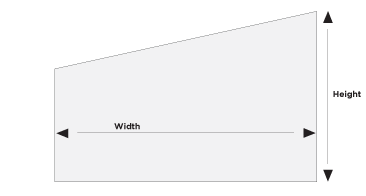 ALLOWING FOR FUNNY SHAPED WALLS
Some of the best walls are the ones that are made to fit a more unusual space so don't be put off if you have a sloping side here or there. Just measure to the widest and highest points to create a wall that will fit into your space. You can trim and cut a sloping ceiling as easily as you can trim a standard edge, so be adventurous! Just remember to consider what you will be cutting away when you are cropping the design or image during your purchase.
Or get in touch with your wall dimensions and we'll take it from there.
Got any queries? Simply call us on WA +973-17441241 today!
IMPORTANT SIZE TIPS:
Always check your wall height at each end and at a point in the middle. Similarly, always check the width at the top, middle and bottom of your wall.
Always give us the MAXIMUM SIZES FOR EACH DIMENSION from these measurements – this will ensure that your wallpaper size is covered and there will be no problems when your decorator arrives to fit it.
We unfortunately cannot be held responsible for any issues caused by sockets/obstacles etc. on your wall disrupting your wallpaper image if you have not informed us or sent us a picture showing their position prior to the setting up and printing of your wallpaper.
We are always happy to adjust the artwork/image to work round obstacles, but cannot do so if we are not made aware of their existence and position!